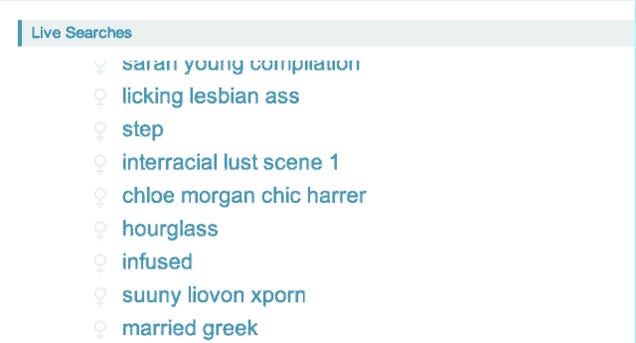 PornMD, a multi-site porn search engine, has created a terrifying and mesmerizing portal into our sad, sticky lives: a live feed of terms entered into its search engine.
"Check Out Our Live Search Stream," the site entices you. "See What People Are Searching Right Now!" Heh. We are fucked up people.
Assuming this is not a weird hoax, this is what people are looking to jerk off to literally as we speak (partial list, all sic):
VIP room
moms feet
lanny
foottugger
very young girl
provocation
lesbian armpit slave
anal ass try teen
big udders
young gypsy
piss 307
my dad
ooo
mum
sloppiness gang bang ever
pantaloon
hottie hesitant
bike
debt
humping a piano
tissues harassment
hot giral
education video
young ; chubby ; loves
video sex extreme pussy
japanes
ugly
homemade cum
iraqi anal
lesvian gets babag
fbb
caught naked
redhead milking
dry humping squrit
night calls 411
dripping japanese
im sorry
mendoza
pregnant alien
borno
she brought a freind
beach hunt 3
drill
assault on a bus
google
The only true poetry left is search terms.