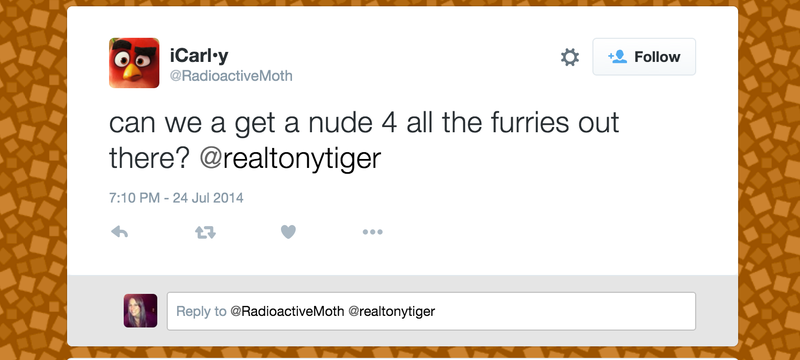 While most public figures have a hard time tweeting without at least one teen asking them to please sit on my face, daddy, the official Twitter account for Tony the Tiger, it seems, is dealing with an special breed of proposition. Because almost any time Tony tweets, the fawning furries of Twitter lose their shit.
As Twitter user Alex Jacob pointed out yesterday, Tony the Tiger is apparently plagued by all sorts of lewd and lascivious demands from the furry community. And it makes sense, I guess. As Gawker Editor-in-Chief Alex Pareene offered, "Tony is pretty buff and athletic." The furries, it would seem, agree.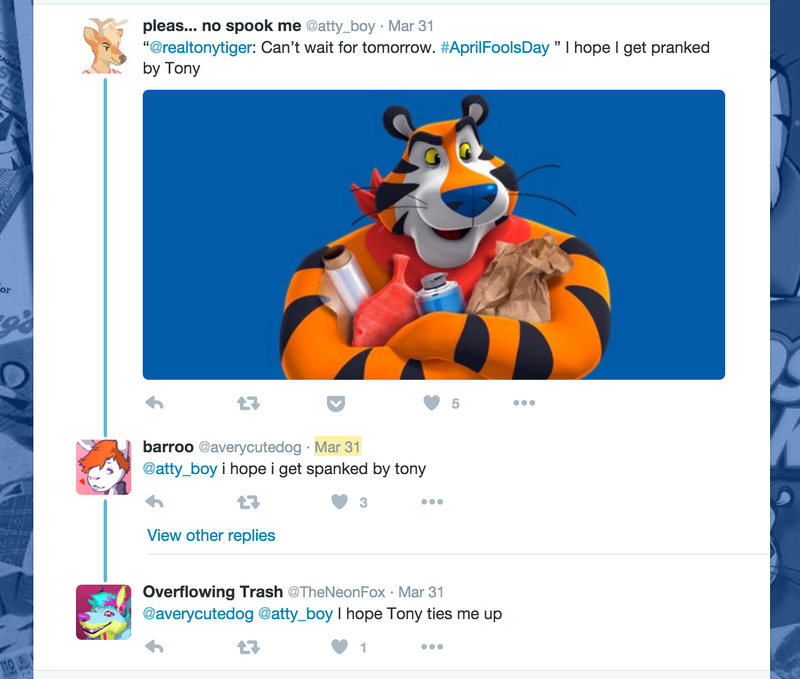 But this isn't just a one-tweet anomaly. Click on pretty much any of Tony's tweets, and you'll see some variety of these.

And maybe even some that are sort of kind of sweet!
As well as others that are less so.
Still, the ones that leave the details to your imagination are the most haunting tweets of all.
For the record, Tony the Tiger does have some broad appeal. Cartoon skulls are also, apparently, captivated by the "buff" cereal shill's charm.
Has Tony taken any of these admirers up on their decidedly non-family friendly offers? According to the account's replies: No. No he has not.
Which is why we urge whoever is running Tony the Tiger's social media accounts to reach out, say hello to the anonymous cartoon anthropomorphic dogs and elephants propositioning you for sex. After all, love can pop up in the most unexpected of places—like a tweet asking you for "your cummies," for instance.
[h/t @crucifalex]
---
Contact the author at ashley@gawker.com.